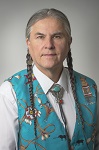 Dr. Robert 'Bob' Prue is an Associate Professor of Social Work at the University of Missouri Kansas City, School of Social Work. Dr. Prue served as Chair of the Social Work Department in the College of Arts and Sciences and the Program Director for the UMKC Master of Social Work Program from 2015 to 2019.
Dr. Prue is currently collaborating with UMKC School of Public Administration to implement a health needs assessment for the Kansas City area American Indian Community.
Prior to coming to UMKC Dr. Prue worked in community organizing in the Haskell Indian Nations University/Douglas County American Indian Community to combat sexual violence and support healthy relationships and sexual safety. Dr. Prue has extensive social work practice history with individuals with severe and persistent mental illness.
Dr. Prue received a Ph.D. in Social Work from the University Of Kansas School Of Social Welfare in July 2008. His research has focused on the interface of American Indian and Mainstream systems of care. Dr. Prue has published research on the effect of the Native American Church involvement on alcohol abuse outcomes. Dr. Prue has looked at the effect of the passage of the American Indian Religious Freedom Act of 1994 on involvement with the traditional use of peyote by American Indians. Dr. Prue has also published on the topic of American Indian supports for veterans. Dr. Prue has also published book chapters relating to the Native American Church, the use of peyote by American Indians, and the history of the Social Work profession with American Indians. Dr. Prue has developed an adaptation of Narrative therapy based on a synthesis of Narrative Exposure Therapy and the use of Plains Indians Winter Counts techniques.
Dr. Prue is the faculty representative for the UMKC At Ease Zone and has presented at the Military and Social Work conference regarding its development. Dr. Prue is also a faculty advisor for the UMKC Student Veteran's Organization, and serves in the UMKC Veterans Working Group. Dr. Prue has also recently presented at the Indigenous and Tribal Social Work Educators Association on the similarities that traditional Indigenous ways of knowledge generation have with modern qualitative research methods. Dr. Prue has served as a member of the UMKC Social Sciences Institutional Review Board and the Chancellor's Diversity Council and is graduate of the University of Missouri System's Leadership Development Program.
Dr. Prue is an alumni of the Council on Social Work Education—Minority Fellowship Program and remains active with the CSWE—MFP as a member of their doctoral committee advisory board, serving in a mentorship role with Indigenous Social Work doctoral candidates. He serves on the Board of the Kansas City Indian Center and is a member of the Veteran's Advocacy Committee For Mental Health at the Kansas City VA hospital. Dr. Prue is an enrolled Member of the Rosebud Sioux Tribe of Indians and a Veteran of the United States Army.
Here are some links to my webpages
If you are ever confused about which statistical test to use and want to know how to do it in R, here is my working copy of a statistical test selection tool. Go to my "Which_Test" Folder